Row houses Avenue Buyl
In order to meet the societal, environmental and economic requirements, how to renovate and integrate the 20th century Brussels row houses?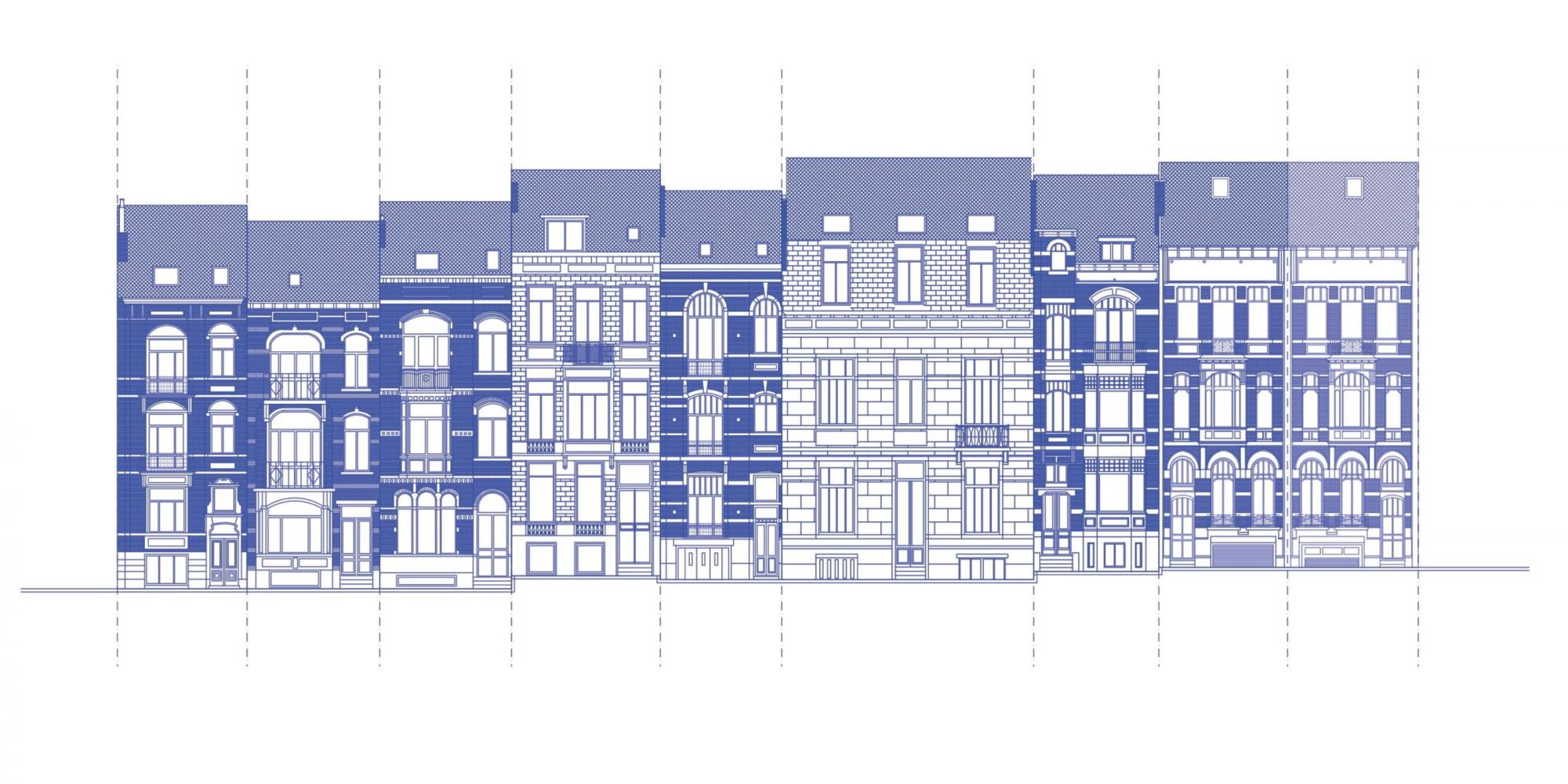 The renovation project consists of the transformation of the bourgeois houses located on Avenue Adolphe Buyl, at the entrance to the Solbosch campus of the ULB. These Brussels houses were built at the beginning of the 20th century and are part of a homogeneous row of buildings of the same style, going up to n°131. The houses on which this proposal focuses range from house number 115 to 131. Indeed, these 9 houses have a similar typology and structure. The facades are of Art Nouveau and eclectic inspiration, in brick and blue stone. Currently, these houses are owned by the university and are occupied by the administration, the management, the secretariat, and some student clubs. The objective of the design is to build a sustainable architecture for the university life of the future. After investigating the different needs of the university, it became necessary to provide student accommodations and group workspaces on the campus. Therefore, I wanted to incorporate student housing into these houses to allow students to live together and to make student life feel more like a community. By combining different groups of houses, the key concept of this proposal is to break the typical principle of a Brussels house to integrate co-living in all its parts. A new extension to these houses is also planned to provide a co-working space and to extend the co-living. In each group of houses, students will have the choice of living in separate rooms, or in a studio or duplex. They will share common indoor and outdoor spaces such as the terrace, living room, dining room and kitchen that will foster student bonds. In addition, per group of houses, the residents will have the possibility to share the bicycle garage and the laundry room. Despite the complexity of the interior structures, the spaces have been designed and thought out to be accessible to everyone, including the people with mobility disabilities. The entire design has been developed with social, environmental, and economic aspects in mind.
Assignment title

Sustainable Urban Regeneration of the Brussels University District (BUD): ULB SOLBOSCH CAMPUS, Sustainable Architectural Project

Academic year

2021-2022

Study year

MA1

Structure Material

wood, mixed, stone, brick

Structural System

beam-column, masonry

Programme

housing, mixed (housing and public), structure & detail

Approach

sustainable design, bioclimatic, refurbishment & conversion

Course(s) attached

ARCH-H400

Date of defense

17 May 2022

Affiliation

BRUFACE