COHAESIO
How to develop a sustainable architectural project by reusing the existing building F?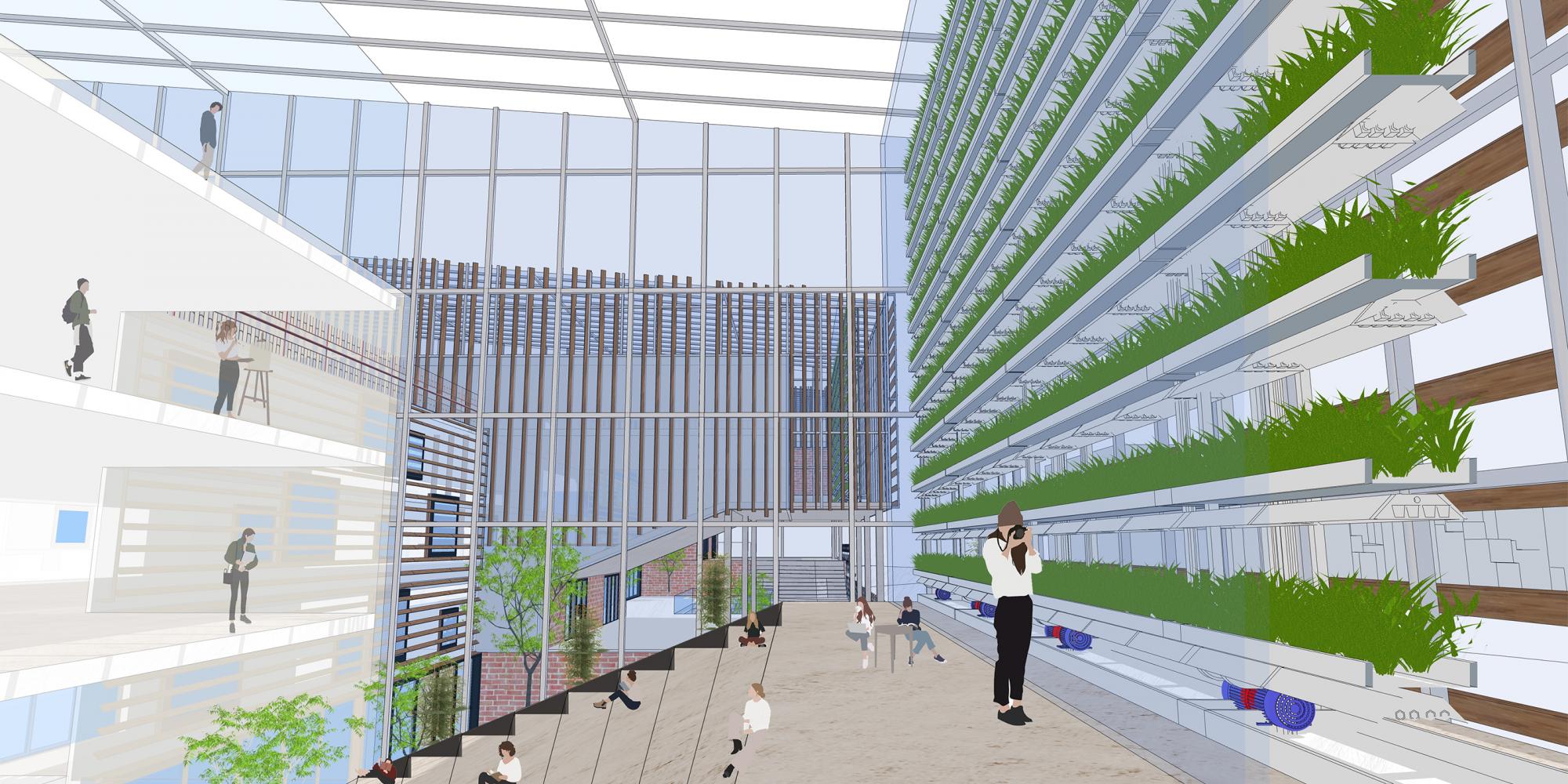 Located in the heart of a multi-national and academic district, Solbosch Campus has a rich potential to accomplish the characteristics of a futuristic university.

The aim of this project is to redesign a chosen building among the imagined master plan of the first semester. COHAESIO is an adaptive reuse of the existing building F, itself situated at the heart of the campus. In fact, a part of the structure will be kept, and the bricks facade will be reused.

The concept will be focused on social sustainability by emphasising community wellbeing, social cohesion, and diversity. Indeed, COHAESIO is the meeting point of students and employees coming from different faculties and countries. Moreover, several activities and events will be proposed in this design in order to increase the participation of users in urban farming, contributing to raising their ecological awareness.

The concept of diversity in this new building can first be seen through the biologist, botanist and bio-engineers labs. The main objective was to bring the students together to study and analyse the vegetation of the greenhouses. Secondly, two kinds of auditoriums were created, one closed for the theatre, and two open on the building hosting the acting and the relaxing spaces.

The typology was defined by effectuating solar and shading analysis, which guided the layout of several transversal openings on the building. Diverse open public spaces were created to bring light, lightness and dynamism to the building. COHAESIO allows the users to walk around the building, creating a direct link between Avenue Paul Héger and the "little Bois de La Cambre" at Janson. The existing slope of the site also provides a direct inside connection.

In conclusion, COHAESIO brings people together in a learning and eventful environment by highlighting the economic benefits of the local food production.
Assignment title

Sustainable Urban Regeneration of the Brussels University District (BUD): ULB SOLBOSCH CAMPUS Sustainable Architectural Project

Academic year

2020-2021

Study year

MA1

Structure Material

mixed, stone, brick

Structural System

masonry

Programme

mixed (housing and public), public space, urban planning

Approach

sustainable design, bioclimatic, circular economy

Course(s) attached

ARCH-H400

Date of defense

18 May 2021

Affiliation

BRUFACE