The F village
How to retrofit a multifunctional building through an integrated design and a sustainable approach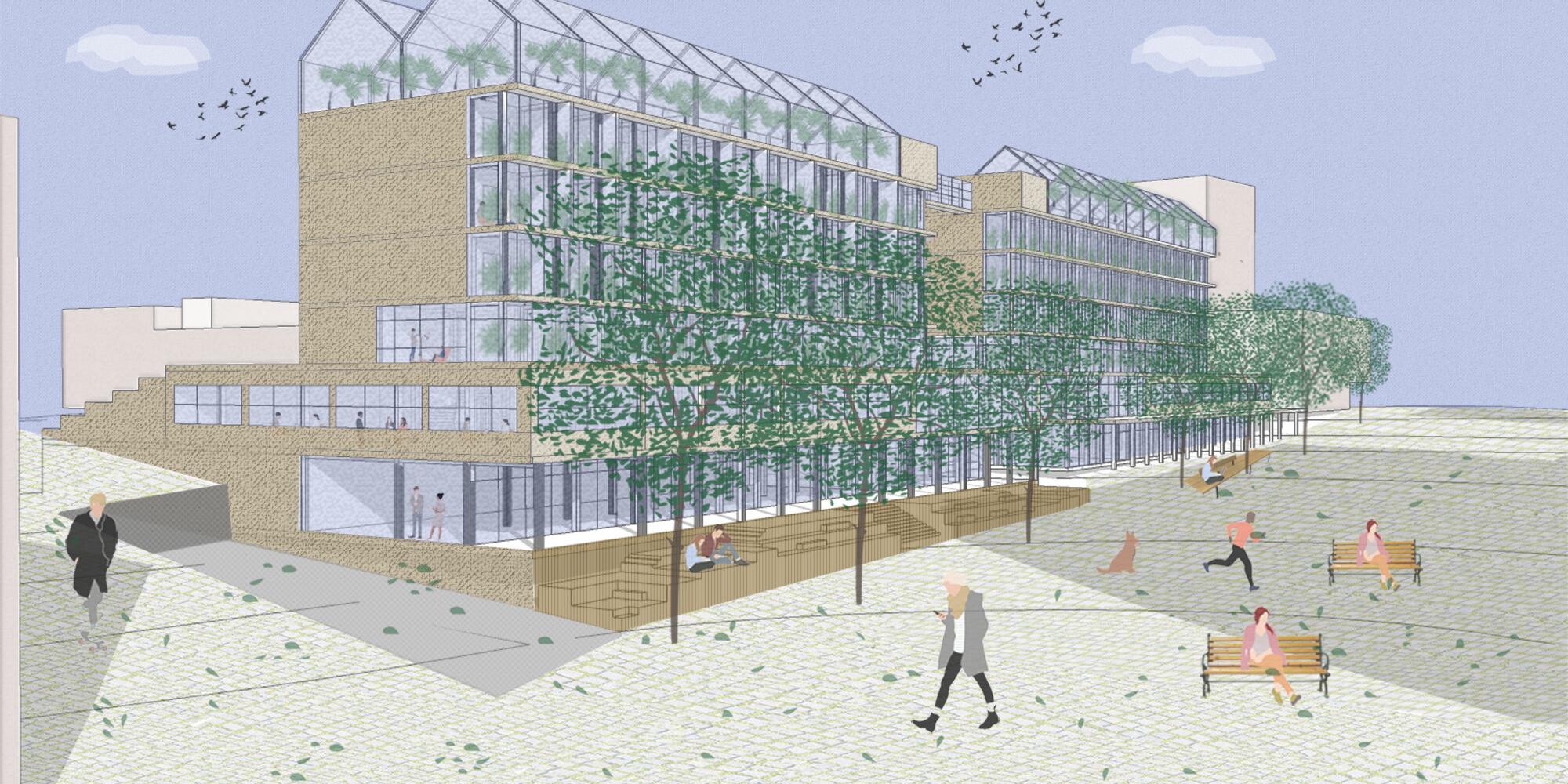 The F village is a retrofit of the F building. This project aims to create a "small city" and a space of community on the campus. The existing building is implemented in a key position on the Solbosch Campus due to its central situation and its frequented area.

The goal of the project is developed through four main strategies. The first one is to create a multifunctional and adaptable building which will include eating spots, study spaces, libraries, a market, student housing and greenhouses. The second strategy is to have a building that works not only during class periods but also all day and all year round. The third one is the valorisation of the existing building by keeping the current structure and part of the building. Finally, the management of flows will be integrated into the building, including food, energy, waste, water and materials.

All these strategies have led to an evolution of the existing volumetry to improve the current situation. Since the F building has a quite long facade, the first step aims to divide the building into two connected parts while letting a passage on the ground floor that connects two of the main places of the campus, the Paul Héger avenue and the green open Janson space. This new passage will offer a better connection between these key campus areas. The second step is the modification of the facade to obtain uniformity instead of the existing fragmented facade. The third step will tackle the energy flow by adding greenhouses on the roof and winter gardens on the south facade. The last step's purpose is to create terraces on the top of the first level to optimise the unused space.

Finally, sustainable strategies are established notably by adding greenhouses on the roof that will provide food for the market and help reduce CO2 emissions. Then, the organic waste of the market and restaurants will be used in compost which will serve the greenhouses. Additionally, water will be collected and stored for the greenhouses, and photovoltaic panels will be added to the roof of the greenhouses to provide energy for the building. Concerning the materiality, the structure and floors will be kept as well as the upper façade. Regarding the rebuilt part, these surfaces will be covered by panels made with brick and concrete waste coming from the partial demolition.
Assignment title

Sustainable urban regeneration of the Brussels University district (BUD): ULB solbosch campus sustainable architectural project

Academic year

2021-2022

Study year

MA1

Structure Material

reinforced concrete, stone, brick

Structural System

reusable, masonry

Programme

mixed (housing and public), public space, urban planning

Approach

sustainable design, energy efficiency, refurbishment & conversion

Course(s) attached

ARCH-H400

Date of defense

18 May 2021

Affiliation

BRUFACE