Econvergence
How can the Solbosch campus be retrofitted to design a more sustainable Brussels University District?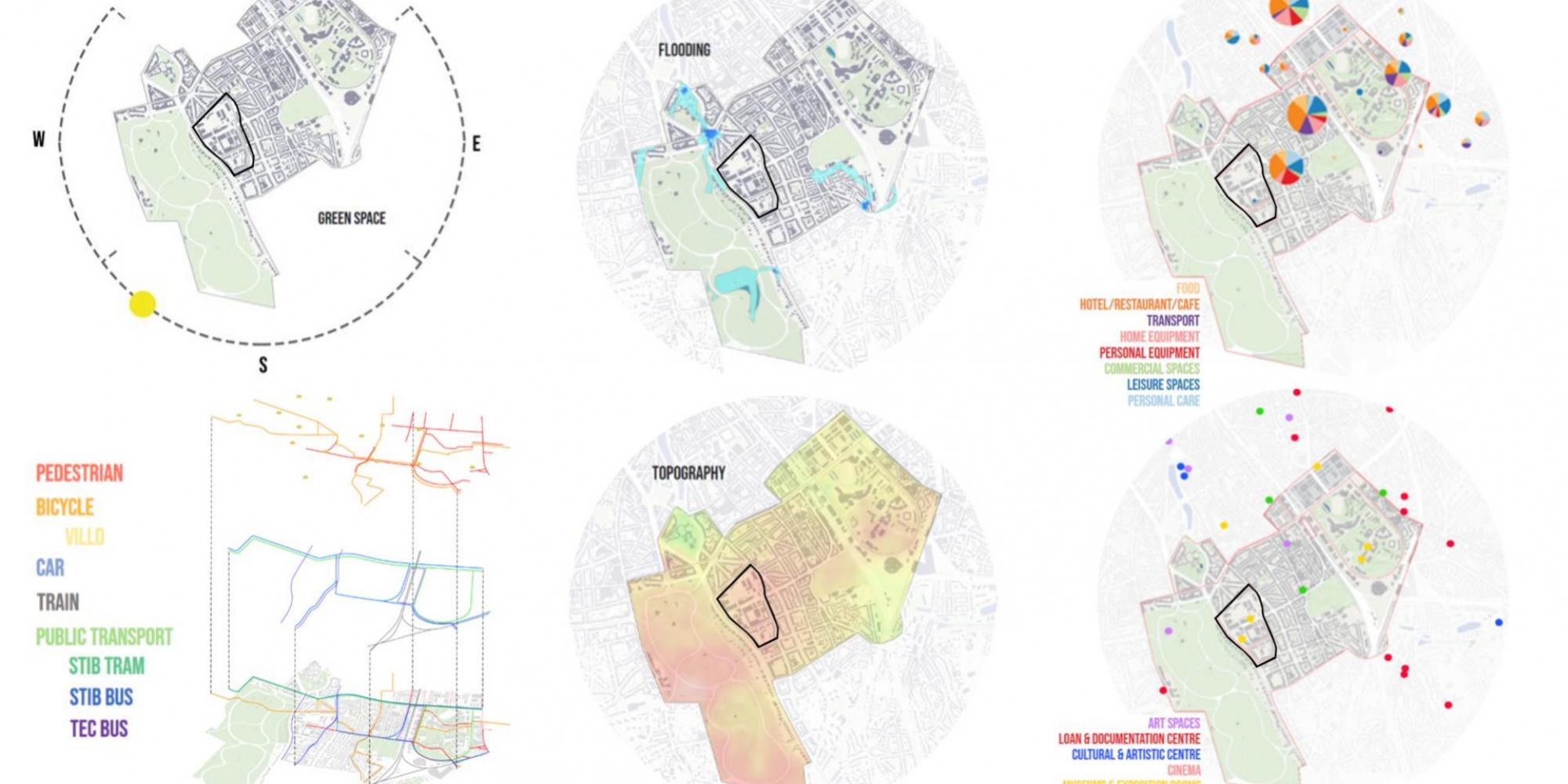 With our project 'ECONVERGENCE', we want to present the Solbosch campus as a sustainable university site, fit for the future and linked with the city. To achieve this goal, we focus on two scales in our design, namely the Brussels University District and the Solbosch campus scale.

When analysing the first scale, we notice that the axis between the Solbosch campus and the VUB and ULB Plaine campus has a huge potential to create the link between both universities. By extending the existing commercial axis near the cemetery of Ixelles, we can make the university more open to the neighbourhood. By designing a forecourt and an agora with public and commercial facilities at the campus entrance, we want to enliven campus life and create a pleasant environment. To make the square more active, the closed facades of the buildings along this square are made more open.

At the other side of the campus, near the Bois de la Cambre, there is major heritage elements to enhance. By working on the gardens in front of the listed buildings, we design a buffer between the busy street and the campus.

When discussing the Solbosch campus-scale, we can distinguish four main design strategies. First of all, we improve the open space framework on campus by designing well-defined open spaces that are well connected. For this design, we take the topography of the site and the solar orientation into account. The south-oriented green stairs that follow the topography at the agora are a nice example of this strategy. Besides that, we design a car-free campus to create a pleasant environment for pedestrians, joggers and cyclists.

Further on, the program is a very important factor. To accommodate the increasing number of students in the coming years, we add more classrooms, research facilities and student housing on campus. To also enliven campus life during the evenings and weekends, we design public facilities along the square and use the Janson auditorium as a cinema during the night. Lastly, we design a sustainable campus by working on energy, water and food management. Water retention, urban farming, biodiversity and renewable energy are some of the elements that we consider in our design. By designing the campus with all these aspects in mind, we envision a sustainable campus for the future – for both the students and the neighbourhood.
Assignment title

Solbosh campus

Academic year

2020-2021

Study year

MA1

Structure Material

mixed

Structural System

prefabricated, adaptable

Programme

urban planning

Approach

sustainable design, refurbishment & conversion

Course(s) attached

ARCH-H400

Date of defense

8 December 2020

Affiliation

BRUFACE